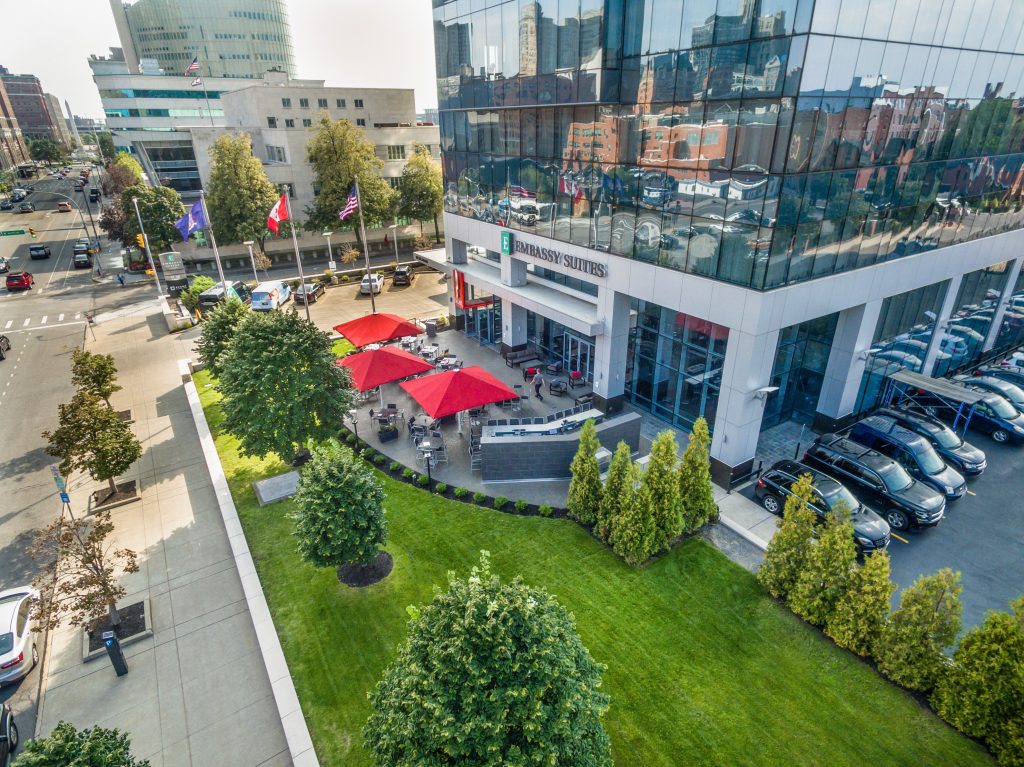 Embassy Suites Hotel Downtown Buffalo is offering a room rate of $119 when you reserve your room and mention code "UBD" or UB Dental Alumni Association". 
Click here to reserve a room online or call the hotel directly at (716) 842-1000
Embassy Suites
200 Delaware Avenue
Buffalo, NY 14202
—
Other Hotels Near Buffalo Niagara Convention Center
—

Parking Information
We know that parking can be difficult to find downtown, so in order to make your time at the meeting more enjoyable we have provided a few suggestions.
Complimentary Door-to-Door Park & Ride Shuttle Bus is available to all registered attendees of the Buffalo Niagara Dental Meeting.
Sponsored by Patterson Dental
Park at Buffalo Riverworks, 359 Ganson St., Buffalo NY 14203, and take the Shuttle Bus to the Buffalo Niagara Convention Center.  Buses run back and forth every 15 minutes, from 7:15 am through 5:30pm on Thursday and Friday.  
Due to the limited number of parking spaces in downtown Buffalo here are some other alternatives:
Park at UB South Campus on Main Street in the NFTA Lot ONLY and take the Metro Rail for a very low price.
Arrive in downtown before 8:00 am and park in the lots below (parking is limited and prices may vary):
Adam Ramp – 343 Washington Street – Daily max $7.00
Main Place Ramp – 221 Pearl Street -Daily max $7.00
Mohawk Ramp – 477 Washington Street – Daily max $7.00
Fernbach Ramp – 200 Pearl Street – Daily max $7.00
Augspurger Ramp – 362 Pearl Street – Daily max $7.00
Michigan and Perry – $3.00 per day – must take the Metro Rail Canalside to Convention Center (Free)