Supported, in part, by an educational grant from GC America.
Friday, October 4, 2019
9:00-12:00pm (3 CE Hrs)
Exhibit Floor- Hands-On
Speaker: Shannon Pace Brinker, CDA, CDD
This course is recommended for assistants.
The role of dental restorations used for provisional and indirect restorative procedures has changed dramatically in the past several years. These restorations are no longer regarded as temporary restorations but rather as provisional restorations with distinct functions and purposes. Provisional restorations have become a vital diagnostic and assessment tool to evaluate function, color, shape, contour, occlusion, periodontal response, implant healing, and overall esthetics. An accurate fit and margination is essential to insure and maintain pulpal health. With increased demands being placed on provisional restorations, new materials and techniques are being developed and some existing protocols are being refined to accomplish desired goals. This hands-on course is designed to report on current materials, techniques, and concepts in fabricating and maintaining long-term esthetic provisionals.
Course Objectives: 
How to choose the right provisional materials for shade-matching.
Pre-Op impression techniques for easy trimming.
Burr selection for fast and accurate trimming and polishing.
Carving techniques for realistic anatomy and ideal occlusion.
Single tooth provisional to multiple esthetic veneers.
How to replicate missing dentition and restore to proper contour and shape with provisionals.
---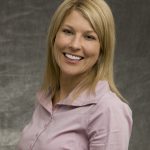 Shannon Pace Brinker, CDA, CDD, is a national and international speaker and published author of over 300 articles for various publications. She has been a practicing dental assistant for over 25 years and works for Dr. Robert Korman in Virginia Beach, VA. She has taught over 2,000 classes on dental assisting technique and over 60,000 dental assistants over the last 6 years alone. Shannon has taught at the Nash Institute, Dawson Academy and Spear Education, instructing through both lectures and hands on programs.
She has a current column in Dental Product Reports for the team evaluation of dental products and materials. She has her own publication for dental assistants with partnership of Schein Dental called "Side by Side". She has started one of the first online platforms designated for dental assistants called the Academy of Chairside Assisting.
Shannon is an active member of the AACD and was the first auxiliary to sit on the AACD Board of Directors and was awarded the Rising Star Award. Shannon has also been recognized as one of Dentistry Today's Top 100 Clinicians for the last 10 years, Dental Products Report 25 most influential women in dentistry, the Lucy Hobbs Award, Sunstar Butler achievement award and Dr. Bicuspid's Dental Assistant Educator of the year
Shannon has a significant relationship with the following commercial organization whose product she may refer to in her presentation: Academy of Chairside Assisting.