This course is supported, in part, by an educational grant from Dentsply Sirona Endodontics.
Thursday, October 5, 2017
8:30am-11:30am (3 CE hrs)
Room 106-B
Speaker: Manor Haas, DDS Cert. Endo. M.Sc.(D), F.R.C.D.(C)
This course is recommended for dentists.
This practical course full of honest tips, tricks and advice, is tailored for novice and experienced GPs who want to perform better root canals with less stress.
Course Objectives:
FASTER: Learn how to more efficiently: locate canals (including MB2), instrument and obturate with fewer steps, and one vs. two appointment root canals.
BETTER: Learn how to better:  access teeth, locate and instrument calcified canals, follow canal curvatures, anesthetize (hot) teeth, improve intra-canal medications.
SAFER: Learn how to separate fewer files, prevent perforations, avoid canal ledging / blocking, prevent obturation extrusion, reduce post-op pain.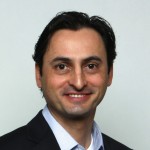 Manor Haas, DDS Cert. Endo. M.Sc.(D), F.R.C.D.(C), is a certified specialist in endodontics and is extensively and passionately involved in continuing education to dentists. He is recognized as a "Leader in CE" by Dentistry Today magazine and has lectured and offered workshops internationally.  He is a Fellow of the Royal College of Dentists of Canada and is on staff at the University of Toronto Faculty of Dentistry and the Hospital for Sick Children. He maintains a full-time private practice limited to endodontics and microsurgery in Toronto.
Dr. Haas is not associated with, employed by, nor consults for, any manufacturer, supplier, or retailer of dental instruments or materials.