Thurs., Oct. 29, 2020
1:00pm-4:00pm (3 CE hrs)
Room 101-D
Speaker: Dr. Daniel Nightingale
Recommended for: Everyone

This presentation covers the clinical picture of neurocognitive disorders such as Alzheimer's disease and how they impact the individual. The CAR and Dementia Triangle as Models for ensuring a valued dental experience for the patient; environmental factors and simple changes that will have a positive impact on patients living with dementia visiting your office and activities and interactions you can make available in the office. This will be delivered through interactive sessions and Power Point.
Course Objectives:
Have a better insight into dementia.
Understand the complexities of managing oral and dental health in this cohort.
Have greater knowledge and skills in delivering quality dental care, and advice to people living with dementia and their caregivers.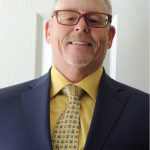 Dr. Daniel Nightingale is a Clinical Dementia Specialist and Psychotherapist specializing in the field of dementia. Now based in Tempe, Arizona, he is originally from the UK and practices in both the US and the UK. Dr. Nightingale is the Founder of the Dr Daniel Nightingale clinic in Tempe, Founder and CEO of Nightingale Dementia Consultants and Co-Founder, CEO and Medical Director of Royal Brit Home Care LLC. He is also a commissioned author by Jessica Kingsley Publishers, having written A Clinician's Guide to Non-Pharmacological Dementia Therapies and The Pocket Guide to Mouth and Dental Hygiene in Dementia Care, an educator, researcher and writer – he is a writer for the UK based journal Expert Care Manager and penned The Nightingale Model of Enriched Care. He is the world leader in the use of hypnotherapy as a treatment option for people with dementia – this follows the peer reviewed, published empirical research he led in conjunction with Dr. Simon Duff and the University of Liverpool. More recently, he has created the training program My Dreams of Being: Inclusion of Reality™ and My Dreams of Being: Supporting Someone Through Their Journey of Young Onset Dementia™ as well as a 6-hour program for dentists and dental staff in order to better support patients with dementia (this program is taught by using the models he created which include the C.A.R Approach and the Dementia Triangle). Having been trained by the infamous Dr. Patch Adams to use comedy and clowning in healing, he often performs in Memory Care Communities as well as doing standup comedy on the club, casino and private party circuits.
In this presentation, Dr. Nightingale does not refer to products of a commercial company with which he has a significant relationship.