This course is supported, in part, by an educational grant from Implant Direct.
Thursday, October 5, 2017
1:15pm-4:15pm (3 CE hrs)
Room 101-B
Speaker: Brian J. Jackson, DDS '89
Alumni Speaker Series
This course is recommended for dentists.
HANDOUT
Video of Brian Jackson, DDS '89

Implant dentistry with a patient focused approach toward better results in less time encourages treatment acceptance. Immediate implant placement with provisionalization is a long established and scientifically proven approach to implant therapy. The program will place emphasis on initial diagnosis, surgery and prosthetics to streamline procedures valuable to the patient. Limitations, complications and unique case situations will be discussed and managed via an understanding of "Decision Trees". Case presentations will demonstrate the protocols in order for the doctor to leave confident to initiate an immediate loading protocol in their practice.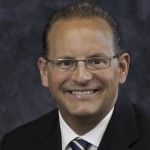 Brian J. Jackson, DDS '89 is an implant surgeon and reconstructive dentist that has been surgically placing and restoring dental implants for over 20 years. He received his Doctor of Dental Surgery degree at the University at Buffalo, School of Dental Medicine and completed post-graduate training at St. Luke's Memorial Hospital Center's General Practice Residency Program. Dr. Jackson completed his formal oral implantology training at New York University, College of Dentistry. Dr. Jackson is a Diplomate of the American Board of Oral Implantology/Implant Dentistry (ABOI/ID) and an honored fellow of the American Academy of Implant Dentistry (AAID). Dr. Jackson has been published in peer reviewed dental journals and has presented at numerous implant conferences in New York, Chicago, Dallas, Philadelphia, Boston, Los Angeles and Mumbai, India. He has served on the faculty of the India, New York and Las Vegas Maxicourses in Oral Implantology. Currently, he serves on the editorial board for the Journal of Oral Implantology and is treasurer of the AAID's research foundation.
In these presentations, Dr. Jackson does not refer to products of a commercial company with which he has a significant relationship.