Friday, September 28, 2018
8:45am-11:45am (3 CE hrs)
Ballroom
Speaker: Larry J. Sangrik, DDS
This course is recommended for everyone.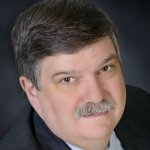 This course will establish the four distinct types of dental fear and how they impact a person's ability to accept dental treatment.  Also discussed, will be the influence of an individual's underlying personality.  A method to quickly assess these characteristics will be presented.  Once a patient's dental fear assessment has been established, choosing the appropriate fear management technique will be presented.  This course is applicable to both general dentists and specialists.  It is ideal for both, practices offering complex, high-end treatment or routine care.
Course Objectives:
Learn the four types of dental fear.
Understand how a patient's underlying personality impacts their decision-making process.
Develop a method to quickly gain information about a patient's dental fears.
Recognize the various methods to address a patient's fears.
Identify which alternative best meets your patient's needs.
Larry J. Sangrik, DDS is a graduate of the Ohio State University College of Dentistry.  Since 1999 he has lectured at most of the nation's major dental meetings on medical emergency preparedness, dental fear and the use of sedation in dentistry.  He has written articles for various publications including a white paper on patient expectations regarding medical emergencies in dentistry.  He recently completed a series of videos and workbook for the American Dental Association.  He practices general dentistry in Chardon, Ohio with an emphasis on treating the needs of apprehensive patients.
In this presentation, Dr. Sangrik does not refer to products of a commercial company with which he has a significant relationship.