Thursday, September 27, 2018
1:30pm-4:30pm (3 CE hrs)
Ballroom
Speaker: John R. Kalmar, DMD, PhD
This course is recommended for dentists, dental hygienists and dental assistants.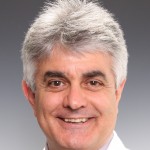 This course is designed to aid the dental professional with the detection, diagnosis and management of lesions and conditions encountered in daily practice.  Case-based examples will be used to help participants recognize the signs and symptoms of common as well as significant oral diseases.  Special emphasis will be given to: 1) skin lesions, 2) ulcerative conditions and 3) radiographic abnormalities.  An interactive format helps to engage participants and reinforce current concepts in disease pathogenesis and treatment.
Course Objectives:
To understand the medico-legal value of recording pertinent clinical findings, construction of the differential diagnosis and the importance of patient follow-up in the diagnostic process
To review the diagnostic features of skin lesions common to the face and neck
To review the clinical features of common and potentially significant conditions associated with oral ulcers and discuss treatment options
To review radiographic features of common and significant oral pathologic conditions and discuss the indications for cbCT in the evaluation of skeletal abnormalities
John R. Kalmar, DMD, PhD is a Professor of Oral and Maxillofacial Pathology and Radiology at The Ohio State University College of Dentistry.   Before becoming a Buckeye in 1999, Dr. Kalmar served on the faculty at Emory University in Atlanta, GA and the University of Rochester/Eastman Dental Center in Rochester, NY.  Dr. Kalmar is a Diplomate and current Director of the American Board of Oral and Maxillofacial Pathology and a Past President of the American Academy of Oral and Maxillofacial Pathology. 
Dr. Kalmar is not associated with, employed by, nor consults for, any manufacturer, supplier, or retailer of dental instruments or materials.