This course is supported, in part, by educational grants from RealWorld Endo.
HANDS-ON WORKSHOP
Friday, September 28, 2018
9:00am-12:00pm (3 CE hrs)
Exhibit Floor
Speaker: Anne L. Koch, DMD
This course is recommended for dentists.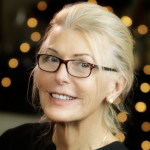 Nearly 25 years after the introduction of nickel titanium rotary instrumentation to endodontics, we've learned much about the clinical strengths and limitations of these great instruments. With recent improvements in metallurgy, enhanced designs, and innovative rotary file motions, we need to understand how these changes affect clinical instrumentation. Furthermore, we must take advantage of these improvements to create an instrumentation protocol that combines safety with simplicity! In this presentation, a new reciprocating technique will be introduced that will result in safe, efficient instrumentation for all root canal types. After attending this presentation, be ready to improve your instrumentation predictability while dramatically reducing instrument separation. The hands-on session will be conducted using blocks.
Course Objectives:
How rotary file design features influence instrumentation safety and efficiency.
Discover the most effective instrument motions available for shaping root canals and their advantages and limitations.
Completely understand the need to utilize piezoelectric ultrasonics in both access and three-dimensional irrigation.
The benefits of bioceramic obturation and the incorporation of matching posts. 
Anne L. Koch, DMD, received both her DMD and Certificate in Endodontics from the University of Pennsylvania. She is the founder and past Director of the Postdoctoral Program in Endodontics at the Harvard School of Dental Medicine. Following her clinical and academic career, Dr. Koch formed her own successful technology and development company, Real World Endo, of which she was CEO and President.   Dr. Koch is the holder of multiple patents. The author of more than one hundred and fifty articles in her prior specialty field, Dr. Koch has presented more than one thousand lectures worldwide.  Dr. Koch is an active member of the ADA, AAE, MDS, and BDDS. Dr. Koch maintains a faculty position at PENN (Department of Endodontics) as well as serving as a Senior Fellow with Penn Medicine. She is also a member of the Board of Overseers for the University of Pennsylvania School of Dental Medicine.
Dr. Koch, (or an immediate family member) has a significant relationship with the following commercial organizations whose products she will refer to in this presentation: Real World Endo and Brasseler USA.