This course is supported, in part, by an educational grant from Ivoclar Vivadent.
Friday, September 28, 2018
8:30am-11:30am (3 CE hrs)
Room 101-C
Speaker: Gerard Kugel, DMD, MS, PhD
This course is recommended for dentists.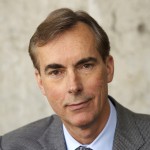 As dentists, we rely not only on the materials but on our own ability to treatment plan and diagnose based on a multi-factorial situation. We must be careful in our preparation, design, and be meticulous in our bonding techniques. Failures in dentistry are frequently blamed on the materials. In reality: "user error" is often the culprit. In this seminar, Dr. Kugel highlights the latest information and evidence on a variety of esthetic dentistry related topics and clinical procedures. Aimed at dentists and their staff, this course will provide relevant clinical information to assist dentists in their everyday practice. Participants will learn: A comprehensive review of core principles of esthetic dentistry related to tooth form and function – tooth position, occlusal function. Most important, what you need to know to stay out of trouble. Why esthetics is secondary to proper function! All-ceramic options and cementation for indirect anterior and posterior restorations: What to do and when to use them. Digital impression making and chairside CAD/CAM – has its time finally come? Advances in adhesive and bioactive dentistry. Are the new generations all they are claimed to be? Esthetic case maintenance. You will get practical and cost effective information that you can use immediately in your practice.
Course Objectives:
Dentist will learn the limitations of materials and what are the best options for different clinical situations.
Dentist will learn the importance of understanding occlusion as it relates to their choice of materials.
Dentist will learn the evidence as it related to new bonding systems.
Gerard Kugel, DMD, MS, PhD, Associate Dean for Research, and Professor of Prosthodontics and Operative Dentistry at Tufts University. Dr. Kugel is a Fellow in the American and International Colleges of Dentistry as well as the Academy of General Dentistry and the Academy of Dental Materials and has his M.S. in Anatomy and Cellular Biology, a Ph.D. in Dental Materials and his Executive Certificate in Management from the MIT Sloan School of Business. Dr. Kugel has published 130 articles, 320 abstracts & given 350 lectures. Dr. Kugel is part of a group practice, Trinity Dental in Boston.
Dr. Kugel, (or an immediate family member) has a significant relationship with the following commercial organization whose products he will refer to in this presentation: Ivoclar Vivadent.