This course is supported, in part, by an educational grant from Ivoclar Vivadent, Inc. 
HANDS-ON WORKSHOP
Friday, October 6, 2017
9:00am-12:00pm (3 CE hrs)
Exhibit Floor
Speaker: Tabetha Magnuszewski, RDH
This course is recommended for dental hygienists.
Limited to 30 participants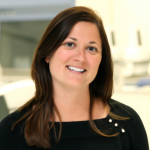 As dental materials evolve it is crucial for dental professionals to learn the latest trends in patient treatment. However, determining which products available are best suited to obtain predictable results is often challenging. This program will feature dental care products as they apply to prevention and oral health maintenance. Throughout this hands-on program, we will discuss caries prevention and current fluoride varnishes available.
Course Objectives:
Understand techniques for caries prevention
Identify the benefits and challenges associated with fluoride therapy
Distinguish handling characteristics between fluoride varnish materials
Recognize tools for oral health maintenance
Tabetha Magnuszewski, RDH graduated from the State University of New York, Erie Community College in 2005 and is currently a NYS Registered Dental Hygienist. From 2005-2010, she worked as a Certified Clinical Research Coordinator at the University at Buffalo, School of Dental Medicine.  Afterward, she worked with the school's administration until joining Ivoclar Vivadent, Inc. in 2012. She currently serves as the Associate Manager of Professional Services. Ms. Magnuszewski is a member of the International Association for Dental Research and Dental Materials Group.   Additionally, she has authored numerous publications relating to dental materials.
Ms. Magnuszewski, or an immediate family member, has a significant relationship with the following commercial organization whose products she will refer to in this presentation: Ivoclar Vivadent, Inc.