Alumni Speaker Series
Fri., Nov. 5, 2021
8:45am-11:45am (3 CE hrs)
Room 101-B
Speaker: Patrick J. Battista, DDS '09
Recommended for: Dentists
Root canal treatment, when properly performed, is an effective and predictable way to save one's natural tooth and return it to form and function. Successful endodontics begins with understanding the rationale, and accurate diagnosis. Then through proper instrumentation, canal disinfection and obturation successful outcomes can be achieved. In today's world, where tooth replacement options are becoming ubiquitous, this presentation will demonstrate the value in saving the natural dentition. With a myriad of file systems, obturation devices and irrigation gadgets, this presentation will provide the fundamentals needed for successful endodontics and strip away the confusion and superfluous choices.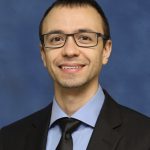 Patrick J. Battista, DDS '09 is Director of the Advanced Program in Endodontics, as well as Director of Predoctoral Endodontics at the University at Buffalo, State University of New York, School of Dental Medicine where he is a Clinical Assistant Professor in the Department of Periodontics and Endodontics. Dr. Battista is a Diplomate of the American Board of Endodontics, past president of the Lambda Lambda chapter of Omicron Kappa Upsilon National Dental Honor Society, and past president of the Voting Faculty. He has received several awards in teaching and pedagogy on both the local and national level including two Educator of the Year Awards. He also maintains a private practice limited to endodontics in the Buffalo community.
Dr. Battista is not associated with, employed by, nor consults for any manufacturer, supplier, or retailer of dental instruments or materials.