Thurs., Nov. 2, 2023
1:00pm – 4:00pm (3 CE hrs)
Room 106-B
Speaker: Simone Duarte, DDS, MS, PhD
Recommended for: Everyone
In this program you will learn about the research programs at the American Dental Association Science and Research Institute, LLC. (ADASRI), including the ADA Seal of Acceptance research component; dental materials, and devices research and development, among others.
You will also learn about translational research in oral biofilms and novel therapies for the treatment and control of oral diseases related to them.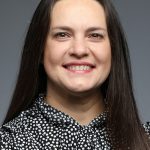 Simone Duarte, DDS, MS, PhD received her Ph.D. and master's degrees in pharmacology from Brazil's Dental School of Piracicaba, State University of Campinas, Piracicaba, where she also completed her DDS. During her Ph.D. she was a visiting scholar at the Center for Oral Biology, University of Rochester Medical Center. She completed her post-doctorate work at the Eastman Dental Center, University of Rochester, NY. She served for 10 years as an Assistant Professor and Clinical Associate Professor at New York University College of Dentistry, where she was the director of the DDS pharmacology course, followed by 5 years as an Associate Professor at Indiana University School of Dentistry, before joining ADASRI as the Senior Director for Applied Research in 2022.
Her research interests include searching for valuable therapies for the control of biofilm-dependent oral diseases. Among novel therapies for the prevention and treatment of oral biofilms, she has been working with alternative approaches to improve oral health in the US and globally.  In addition to being an NIH-funded scientist, she was the recipient of prestigious awards in dental research, including the IADR and AADR Hatton Awards, the IADR/GSK Innovation in Oral Care Award, NYU Whitehead Fellowship for Junior Faculty in Biomedical and Biological Science, and the IUSD Distinguished Faculty Award for Research.
Dr. Duarte (or an immediate family member) is not associated with, employed by, nor consults for any manufacturer, supplier, or retailer of dental instruments or materials.