This course is supported, in part, by an educational grant from CareCredit.
Friday, October 6, 2017
9:00am-12:00pm (3 CE hrs)
Ballroom
Speaker: Uche Odiatu, DMD
This course is recommended for everyone.
HANDOUT
Video of Uche Odiatu, DMD
Want to add incredible value to your patient experience? There's an avalanche of evidence demonstrating the link between your patients' mouth with their lifestyle habits: lack of sleep, shift work, poorly managed stress, overeating & sedentary living. Patients appreciate the dental professional who sees the bigger picture and understands the relationship between the body, mind and mouth. In this lively morning session, you will gain new appreciation into the miraculous nature of the human body and to the way every part is connected.
Course Objectives:
Recognize the destructive inflammatory cascade in your patients from their modern lifestyle habits
Discover how visceral fat behaves like an active organ causing havoc throughout the body and mouth
Identify 7 key foods & lifestyle habits that contribute to inflammation – "Eat this not that!"
Understand how chronic dehydration adversely influences your patient's entire biochemistry
Learn how the human body wants to move toward health with every breath. No matter what your age, muscles and lungs will respond to exercise. What kind? New information on Interval training where "less is more"
Discover new lifestyle questions to add to your new patient exam and to recall examinations to support a total health perspective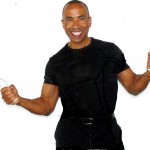 Uche Odiatu, DMD is an internationally recognized wellness & performance expert. This practicing dentist from Toronto is also an NSCA certified personal trainer, a holistic lifestyle coach, media personality (ABC 20/20 and Canada AM), a professional member of the American College of Sports Medicine and the author of book, The Miracle of Health. This energetic dad of four has lectured and shared his unique insights and humor in Denmark, England, USA, Canada, Norway, Jamaica and the Bahamas.
Dr. Odiatu, (or an immediate family member) has a significant relationship with the following commercial organization whose product(s) he will refer to in this presentation: Philips Sonicare.