This course is supported, in part, by an educational grant from CareCredit.
Friday, October 6, 2017
1:30pm-4:30pm (3 CE hrs)
Ballroom
Speaker: Uche Odiatu, DMD
This course is recommended for everyone.
In this inspiring afternoon session, we'll go into advanced strategies to create change in your patients' daily health practices and maybe yours? Across the board, your patients' lifestyle cannot be ignored as you work at getting them to optimal health. From sedentary living (is sitting the new smoking?) to mismanaged stress, you will discover a new way of looking at how chronic inflammation and disease is supported by your well-intentioned patients.
Course Objectives:
Understand why certain patients do not respond well to your hygiene programs
Learn the language of nutrition and supplementation (probiotics, Vitamin D, omega-3's, 70% cocoa chocolate & more) so you can communicate easier with your patients
Spot how stress and disrupted sleep shows up in your patients' mouth & body
Develop team building strategies to get your entire office on board focusing on whole body health
Create a circle of influence and develop relationships with allied health professionals and get loads of referrals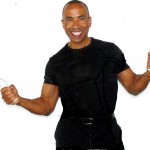 Uche Odiatu, DMD, is an internationally recognized wellness & performance expert. This practicing dentist from Toronto is also an NSCA certified personal trainer, a holistic lifestyle coach, media personality (ABC 20/20 and Canada AM), a professional member of the American College of Sports Medicine and the author of book, The Miracle of Health. This energetic dad of four has lectured and shared his unique insights and humor in Denmark, England, USA, Canada, Norway, Jamaica and the Bahamas.
Dr. Odiatu, (or an immediate family member) has a significant relationship with the following commercial organization whose product(s) he will refer to in this presentation: Philips Sonicare.